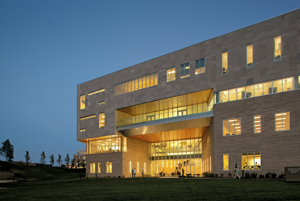 The University of Southern Indiana's Romain College of Business will offer agricultural business as a new area of interest within the business administration degree, beginning in the 2022 Fall Semester. The new area of interest will require five courses: Introduction to Agricultural Economics, Agricultural Marketing, Agricultural Finance, and Farm and Ranch Management, as well as one advisor-approved, upper-level course. The new agricultural business courses are open to all majors. 
"The new agricultural business courses and area of interest within the business administration major will make USI and the Romain College of Business an attractive option for a new set of potential students who wish to contribute to one of the many businesses which are responsible for bringing food to the table," says Dr. Jill Oeding, Associate Professor of Business Law. "Some students may be attracted to agribusiness courses because they were raised on a farm and wish to pursue a familiar career related to agriculture. Other students may be intrigued by the agricultural sector of the economy and choose to enhance their marketability by learning more about agricultural applications within business." 
Indiana is the 10th largest farming state, and it is the eighth largest agricultural exporter in the nation. Offering a series of agribusiness courses meets the needs of students who are either currently engaged in, or wish to be part of, the agribusiness sector of economies locally or worldwide. Students are encouraged to expand upon their business administration degree with agribusiness courses. 
"Agriculture accounts for over $31 billion of Indiana's economic activity. Over 96% of Indiana's farms are family owned and operated. Understanding the business side of agriculture is as essential to operating today's small farm as it is for larger commercial operations," says Dr. Cathy Carey, Professor of Economics. "In addition, many other careers in agriculture also recommend or require a business degree, including ag lending, crop insurance, food manufacturing and mills operations managers, marketers, government statisticians and so much more. USI's new agricultural business emphasis will provide training in a wide range of areas, including farm management, agricultural pricing, marketing and finance. Specialized knowledge in these areas will help managers in agribusiness with planning, analyzing and controlling business performance in a wide variety of agribusiness and related markets." 
Learn more at USI.edu/agribusiness, or contact the Romain College of Business Advising Center at (812) 465-7028. 
The Romain College of Business, one of four colleges at USI, is AACSB-accredited for both its business and accounting undergraduate and graduate programs, a distinction shared by only select accredited institutions. The college offers eight bachelor's degree programs, 12 minors and a Master of Business Administration program that is available in traditional and accelerated, online formats with several areas of emphasis. For more information, visit the Romain College's website at USI.edu/business. 
https://www.usi.edu/news/releases/2022/03/usi-romain-college-of-business-to-offer-agricultural-business-courses-beginning-2022-fall-semester/