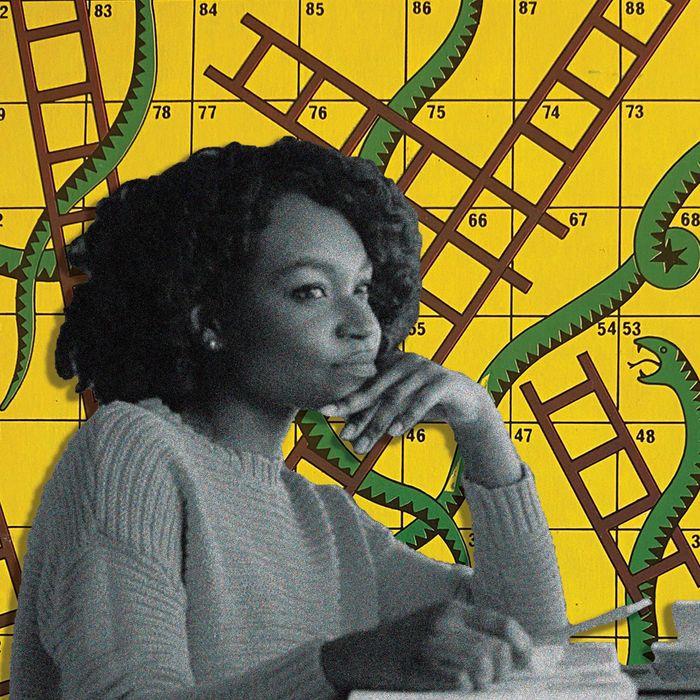 Photo-Illustration: Photo-Illustration: The Cut; Photos: Getty Images
Hello, Cut readers. I've spent most of my career teaching women and people of color of all ages how to navigate the world of work, make more money, and position themselves as leaders. I started my own career at some of the nation's top universities, working in career services, and I've been able to work with undergraduates, graduate students, and seasoned professionals across nearly every industry. After a time, I leveraged that experience to move into diversity talent acquisition at a Fortune 100 financial-services company, helping it to recruit, retain, and advance its underrepresented talent. All of these experiences allowed me to build my own leadership-development company, Manifest Yourself, and to write my first book in 2021. If you're looking for straightforward, actionable career advice, then you've come to the right place. My perspective can help you to advocate for yourself, take action to achieve your biggest goals, and position yourself as a leader in the workplace. So let's get started. If you have a question for me, please email [email protected]. —Kimberly
Hi, Kimberly,
I am currently in a senior manager position and looking to get to the next level: director level, replacing my boss who left the organization. I applied for the position internally and interviewed for the role, but ultimately an outside candidate was chosen. The feedback I received was that when asked about my vision for the role, I communicated incremental improvements and failed to share a broader strategic vision for the role and team. What would you suggest to help me broaden my thinking and fill in this gap?
Thank you,
J
Dear J,
This is one of the biggest challenges when moving within an organization from an individual contributor role to a leadership one. It's also not something that's often taught in the workplace, creating a larger strategic vision for a role. It can feel like one of the "magical skills" that is supposed to be cultivated the moment you interview or accept a higher placement. But creating a larger strategic vision for a role is very much aligned with becoming a thought leader in any organization.
If you Google "thought leader," you'll get a wide variety of results, including articles defining the term as something along the lines of "an individual or firm recognized as an authority in a specific field." The key here is being an authority, which can look like having an opinion about the direction of your team or broader organization. As an internal candidate, you may be at a disadvantage, because you've already been operating in the existing environment. You understand how things are done in the organization; if all is seemingly going well, it's easy to be seen as someone who is just going to keep things moving along.
External candidates are often looking at an organization with a bird's-eye view and are therefore more open to making suggestions for improvements. If the company doesn't have a standardized interview process, it may also be giving the external candidate an advantage by asking more pointed questions about their mission and vision as well, essentially setting them up to position themselves as a thought leader, which is unfortunate for you.
The key here is breaking yourself out of the "internal employee" box. With any role, you are operating within a box that has a certain set of rules. For some, that box may look and feel perfect — you have a great boss, you have great relationships with your team, and generally you are fairly happy in your role. However, as you start to outgrow that box, you have to rip the lid off and expand your perspective to make room for something new. Much like an apartment that feels so big when you first move in, only for you to run out of closet space two years later, you need a new box to accommodate your upward mobility.
So what does this new box look like? You have to envision it. Lucky for you, you were working directly for and with the person your company is now replacing, so you have an idea what the box looked like. Ask yourself the following questions:
What did they do right? 

Where were their growth opportunities?

What could your team do to be more effective?

What additional resources do you feel would be more helpful?

What is the larger company's mission and vision? 

How does your team connect to that mission and vision?

What would be your plan of action for the first 90 days in the new role?
Now I acknowledge that you have already missed the opportunity to go into this particular role, but keep these questions in mind as you continue to interview for other director positions. And if you can't answer them on your own, conduct informational interviews with employees at the hiring company who can help you to. You'll leave the manager box and step into the director one by positioning yourself as a thought leader throughout your interviews.
Remember, a thought leader has opinions about the direction of the employees, the team, and the company. Don't be afraid to voice those thoughts that you may have been too afraid to share previously. Especially because that's where the strategy piece comes in: You share your vision and then back it up with tangible, actionable next steps to make it a reality. During an interview, you don't have to have all the answers — no one's expecting you to pivot to a 50-page slide deck on the spot — but you should be able to provide a brief overview of your initial thoughts and express excitement at the opportunity to explore them in that role.
Even if you're not interviewing for anything else at the moment, I challenge you to begin to evaluate your current role and see how you'd be able to improve upon it. Take advantage of this opening, even if you're not the one filling it — a new leader coming in gives you the unique opportunity to hit the reset button on your own professional brand. Try hard not to be the salty employee who is constantly giving the side-eye to the new director because they got the job you wanted. It will be transparent to others on the team what's happening. Instead, ask yourself:
How can you serve as an ally? 

How can you improve upon your current role?

How can you leverage the new leader to make much-needed changes to your role and team?
And last but not least, keep applying for new director roles, inside and outside of your current organization. Practice displaying that you have the ability to be a strategic thought leader in your job now — I'm a big believer in maximizing your current role while preparing for your next one. There's no need to hold back trying new things in your present environment; use your company as a testing ground for new skills so that when you do start a new, director-level job, you already have experience sharing your vision.
Career and leadership-development expert Kimberly Brown helps readers make sure their next move is the best move here, every other Wednesday. Have a question for her? Email [email protected] (and read our submission terms here.) Listen to the Your Next Move Podcast here.
https://www.thecut.com/2022/04/your-next-move-career-advice-column.html