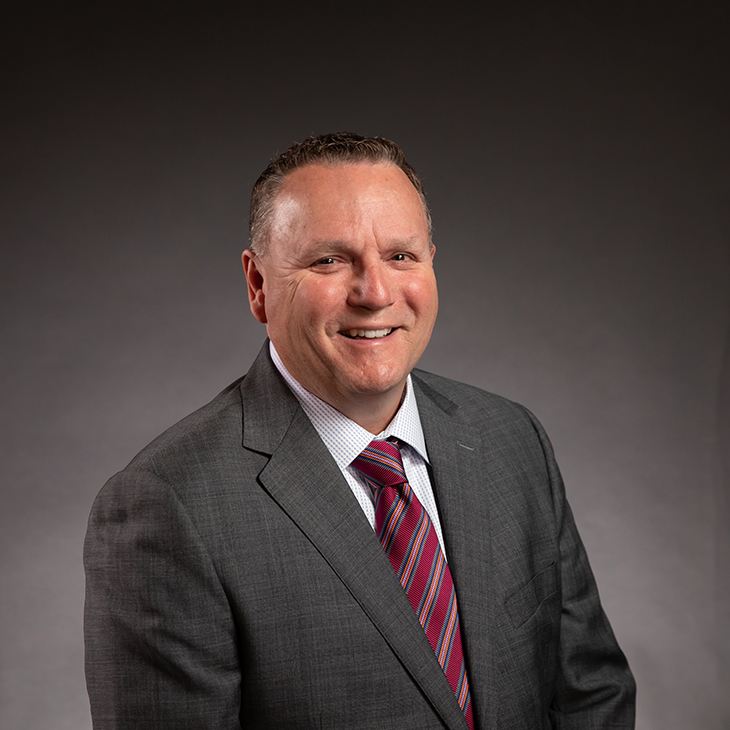 Tuesday, March 22, 2022
Media Contact:
Katie Lacey | Communications Specalist | 405-744-9347 | [email protected]
Dr. Robert Morgan graduated from Oklahoma State University with a Ph.D. in Counseling
Psychology. He now serves as dean of the College of Health and Human Sciences at Southern
Illinois University, where he is also a professor in the School of Psychological and
Behavioral Sciences. Morgan assumed his new role following more than 20 years as a
faculty member at Texas Tech University.
He shared some of his experiences and advice below:

How did Oklahoma State University help prepare you for your career?
The faculty in the counseling psychology program at OSU were instrumental in my professional
success. My primary mentor, Dr. Carrie Winterowd, gave me the latitude to explore
areas of research that were of interest to me, even when they stretched her own area
of focus. The faculty provided me support and encouragement to pursue my dreams, even
when those dreams changed late in my Ph.D. studies. The counseling psychology program
gave me the skills, including critical thinking skills, that laid the foundation for
all of my future professional endeavors. I remain grateful to the faculty to this
day. I was also fortunate to have a skilled and talented peer group, some of whom
remain friends and confidants to this day. Success in academia is a team game. Continuing
that metaphor, I was very fortunate to learn from great coaches and teammates in my
time at OSU.
What were the most beneficial opportunities and classes at OSU and why?
The most beneficial opportunities at OSU were the external practicum (clinical externship)
opportunities. These practica allowed students like me to not only gain clinical experience
to develop our psychotherapy and psychological assessment skills, but they also afforded
us opportunities to interact with other professionals and — at times — to navigate
complex interagency dynamics. These types of experiences were invaluable to my development
including my advancement through the academic administrative ranks.
What advice would you give to other Counseling Psychology students?
My advice to doctoral students in the counseling psychology program remains the same
today as it did for me when I was a student — you will get out of the program what
you put into it. The more of your time, energy, and effort you put in; the more you
will receive in return. The counseling psychology faculty I know at OSU, and I still
know many of them, are committed and they truly care about your outcomes. Take that
to heart, be open to new experiences, be willing to try new things (failure is a great
platform for learning), and know that the faculty will support you. The more risks
you take, the more growth you can achieve.
Can you share about your new role as dean of the College of Health and Human Sciences
at Southern Illinois University?
I loved being a faculty member at Texas Tech University. I spent 21 years there, and
had a wonderful experience as a member of the Department of Psychological Sciences.
I was also very fortunate with the support I received that allowed me to achieve more
success than I could have imagined. After 21 years, however, I was ready for a new
challenge, and serving as the inaugural dean of the College of Health and Human Sciences
at SIU has been nothing short of exhilarating. By far the best part of my work is
the opportunity to work with a talented group of faculty and staff whereby I get to
contribute to their growth and development (in some respects, much like the OSU faculty
did for me). Helping and watching the success of others has proven to be by far the
most rewarding experience in my professional career and I get to continue to experience
that in my new role at SIU. I must add that my office view over the campus lake is
also quite enjoyable; a view I try to appreciate at least once every day.
Do you have a favorite memory of your time at OSU?
I have a collection of favorite memories and they all include my peer group and our
faculty. When we were together, in the classroom, at department functions, or simply
hanging out at football games (which we did for nearly every home game), those times
were by far the most enjoyable — and quite frankly — where I learned the most. I learned
the most about human behavior, psychology and myself. OSU provided us all a valuable
learning experience and we enjoyed that, and for me, most importantly, we enjoyed
it together.
Is there anything else you would like to say or that you would like people to know?
My wife attended OSU, two of my three children attended OSU, with one of those two
completing her Ph.D. there now. We all loved our time at OSU, and importantly. I'm
grateful to OSU and the wonderful faculty at OSU for my success, but also for that
of my family.
Go Pokes!
https://news.okstate.edu/articles/education-human-sciences/2022/meet-dr-robert-morgan.html