Rooted in the Oakland University community since 1969, the School of Business Administration flourished under the guidance of expert faculty, the achievements of alumni and the budding brilliance of students.
Fifty years later, the OU business school delivers internationally recognized programs and partners with businesses to address challenges, while its faculty members research emerging issues and educate tomorrow's leaders. With a full complement of undergraduate, graduate and executive programs, the OU business school radiates a maturity beyond its 50 years.
Creating a heritage
Reflecting on the growth of the school, Ronald Horwitz, Ph.D., dean of the school from 1979-1990, observed, "Fifty years has created a heritage." Dr. Horwitz, professor emeritus, oversaw the metamorphosis from School of Economics and Management to School of Business Administration, and led the school's first AACSB accreditation.
Conscious of the role he played in building the foundation of Oakland's young business school, Dr. Horwitz relied on the past to forge a path to the future. "When either of us [Horwitz and then Provost Keith Kletchner] had a crisis, we would go for a walk around campus," Dr. Horwitz said. "We expanded our shoulders to lean on each other."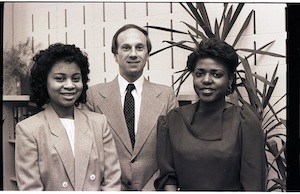 With a strong focus on building a community for students, Dr. Ron Horwitz led the transformation of School of Economics and Management to School of Business Administration in the 1980s. Dr. Horwitz is pictured with then OU business students Pipier Scott and Sonya Roberts.
In these moments, he refocused on everything that is the Oakland University School of Business Administration: nature, expansion and community.
To Dr. Horwitz, community meant creating one for business students as well as inviting business leaders into the school, laying the groundwork for integrating professional development and experiential learning into the curriculum.
From launching the school's first Board of Visitors, chaired by James McDonald, then president, General Motors, and introducing courses to address business demands to nurturing the growth of active student organizations, Dr. Horwitz, together with a strong faculty team, set in motion the success of today's School of Business Administration.
"It's very important to remain connected with the students," Dr. Horwitz said. "That's how we've stayed relevant."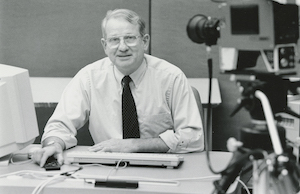 From 1968 to 2006, John Tower served as professor, adviser, associate dean and two appointments as interim dean of the OU School of Business Administration.
Connection and relevancy influenced strategic decisions about the school. During this growth, the school introduced its first master's program, the MS in Management, which evolved into the MBA, expanded majors and courses, and created the four academic departments that exist today. With an eye on the future, Dr. Horwitz oversaw the launch of a money and capital markets course, which served as the genesis of today's finance and data courses.
The reputation the business school has for its active student organizations that connect students to professionals grew from this era. Beta Alpha Psi, the professional financial information fraternity, American Marketing Association and OASIS, Oakland Accounting Students Information Society, launched at this time, planting seeds for the many business organizations that have followed.
Leading a legacy
Across the decades, the school remained true to its heritage while focusing on its future. In the years between Dr. Horwitz's leadership and Michael A. Mazzeo, Ph.D., who served as dean and professor of finance from 2013 to 2022, the school grew in stature, reputation and enrollment. School leaders embraced cross-disciplinary understanding, integrating technology into the curriculum, expanding experiential learning, and increasing the focus on professionalism and career-readiness.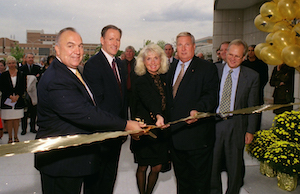 In fall 2000, Oakland University opened the R. Hugh and Nancy Elliott Hall of Business and Information Technology, the home of the School of Business Administration.
New programs like the cross-disciplinary Applied Technology in Business in 1997, the Executive MBA program in 2000 and the AACSB-recognized best-in-class ACHIEVE career and professional development program in 2008 enhanced the legacy. In fall 2000, the school moved into its current home when the university opened the R. Hugh and Nancy Elliott Hall of Business and Information Technology, recognizing the longtime support of the Elliott family.
As the significance of the international marketplace increased, business faculty members expanded global partnerships and scholarly activities. The curriculum reflected this as faculty offered internationally focused projects and global immersion opportunities.
The dedication of OU business school leaders elevated the emphasis on real-world, hands-on learning within and beyond the classroom, formally integrated career and professional development into the curriculum, and advanced the understanding of the technological shifts driving the business world through applied research.
Building a future
Often hearing the school described as a hidden gem, Dr. Mazzeo made it his mission to elevate the business school's reputation within and beyond the region. Building on the cornerstones of community and connection, a strategic emphasis of student-centered success took shape. "The accomplished faculty and dedicated staff members of OU's business school community are committed to student success, from classroom to career," said Dr. Mazzeo.
This focus on student success is illustrated by strategic decisions to adapt academic programs to address emerging business trends. From preparing business students across disciplines with an understanding of analytics to introducing programs in the burgeoning areas of information security, wealth management and fintech, business faculty and students focus on leading the future of business.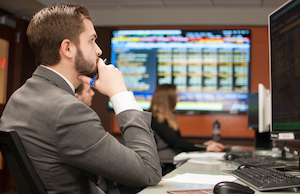 In 2015, the School of Business Administration launched a student-investment fund and created a trading floor in Elliott Hall.
A partnership with The Kresge Foundation in 2015 fueled Oakland's $2-million student-managed investment fund and inspired the creation of a Trading Floor in Elliott Hall, where business students master professional-level programs and gain real-world experience.
"Changing technology influences the world of business," said Dr. Mazzeo. "Marketing, finance, accounting, management information systems, even human resources, now incorporate understanding how analytics drives decision-making."
The Business Honors Direct Admit Program, launched fall 2018, delivers a cohort-based honors curriculum for high-achieving freshmen and transfer students.
A front seat to the global world of business became a reality for more business students thanks to increased scholarship support, faculty-led trips and study-abroad opportunities. "For many Oakland business students, this is their first opportunity to travel out of the country," said Dr. Mazzeo.
A Career Services team dedicated to business students combined with active student organizations to connect students to employers, building their networks before launching their careers. Today, OU's business school is home to more than a dozen industry-oriented student organizations, which welcome a steady stream of guest speakers who give students insight into career paths.
Today, OU's School of Business is home to more than a dozen industry-oriented student organizations. During the academic year, student organizations welcome a steady stream of guest speakers from area organizations who give students insight into career paths and the chance to expand their network.
"The emphasis on career and professional development through Career Services, ACHIEVE and student organizations mean students are equipped to seamlessly move from student to professional, classroom to career," said Dr. Mazzeo.
Take a video journey Through the Decades of the Oakland University School of Business Administration.
https://www.oakland.edu/business/news/2022/building-business-heading-into-the-future-honoring-the-past