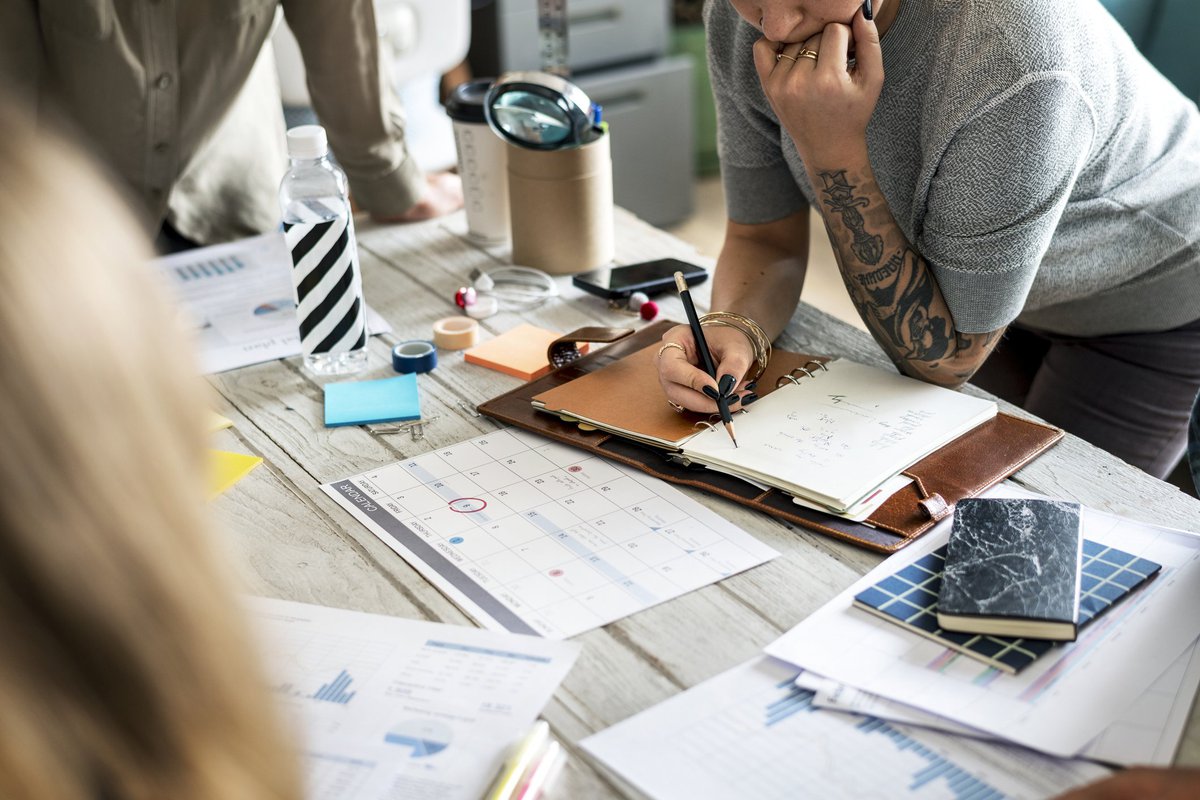 Learn how to streamline operations, get a 360-degree view of your business, and improve guest experiences using restaurant management software.
According to the National Restaurant Association, more than 1 million restaurant locations generate nearly $829 billion in sales and employ 15.6 million people. Many of these establishments rely on efficient workflows made possible by restaurant management systems (RMS).
However, you need the right combination of tools and features for a comprehensive solution. Explore different types of restaurant software to discover the best setup for your business.
Overview: What is a restaurant management system?
A restaurant management system supports critical business functions necessary to manage a restaurant. It puts your payroll, inventory, accounting, and customer management data in one spot. Some point-of-sale (POS) systems double as an RMS, or you may purchase loyalty or online ordering solutions separately.
Restaurant management software includes:
Point-of-sale system: This is the primary tool you use to enter orders and record payments. It may include other types of management software or integrate with third-party services.
Payment processing: Payment software allows you to accept credit cards or mobile payments. Some systems have native integrations with payment processors, while others let the business owner choose services.
Restaurant inventory management: Popular POS software often includes inventory management functions to oversee current stock, cost of goods, and assess meal or menu pricing.
Employee scheduling software: Track shift trades and time off while providing staff and management with intuitive scheduling apps.
Reservation or table management solution: Help customers book a table or host an event with software that works in your restaurant or online.
Customer relationship system (CRM): Use a CRM or loyalty rewards program to collect email addresses or phone numbers for your restaurant marketing program.
Payroll service: Manage payroll taxes, tip credits, and labor law compliance with an automated and easy-to-use payroll system.
Accounting software: Generate cash flow reports or monitor expenses while recording all the information required for your business tax return.
Online or e-commerce system: Provide your guests with an online menu and ordering platform via browser or app for delivery, curbside, and pickup orders.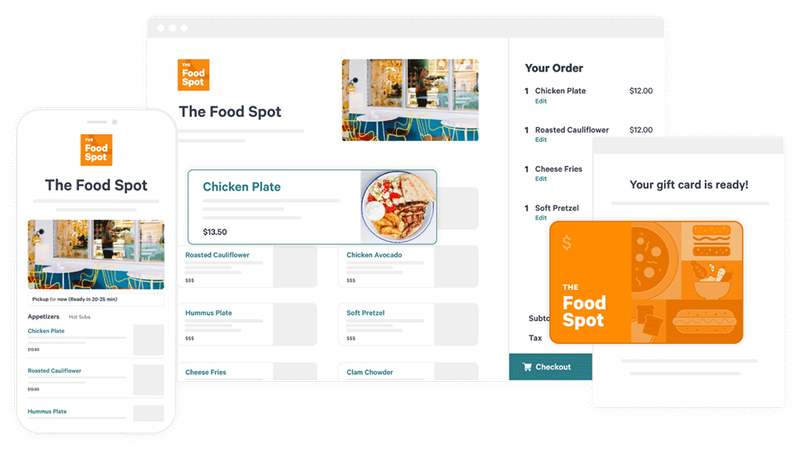 The benefits of using a restaurant management system
An RMS system helps you solve restaurant business challenges. The result is happy customers, employees, and managers. Everyone gets what they need to do their job and make decisions.
With an integrated solution, all the segments of your technology setup "talk" to each other. Instead of printing multiple reports from various software programs, connected systems put your data in one spot.
1. Consistent and personal guest experiences
Integrated management systems support every aspect of restaurant customer service, allowing you to deliver seamless online and in-house guest experiences. Use your RMS to gather data and learn the following about your guests:
Favorite dishes
Average spend
Frequency of visits
Birthdays or other special events
Preferred devices to access your website or app
Common communication methods (text, email, etc.)
In the same system, you can oversee customer engagement or loyalty programs, sell gift cards, and manage your brand's marketing. Using an integrated solution helps you maintain consistency across your digital assets, giving guests the same experience whether they're ordering online or using mobile checkout at the table.
2. Efficient systems and workflows
All-in-one solutions with user-friendly interfaces help your team members do their jobs better. For your front-of-house staff, a connected system means fewer taps, clicks, and devices to close out a table, resulting in faster guest service.
Improve kitchen workflows by routing food orders to the right stations or using displays connected to your restaurant POS system. With performance reporting and analytics, you can see what's working and make adjustments as needed.
3. Gain total visibility
From point-of-sale reporting options to real-time labor and sales tools, a restaurant management system gives you insights into front-of-house and back-of-house operations. End-to-end solutions also provide reports such as:
Assets and liabilities
Menu performance reports
Gift card transaction details
Average fulfillment time for orders
Sales by server, item, or date
Plus, convenient restaurant inventory apps or real-time labor dashboards let you view activities and alerts from anywhere. You can even use your reports to calculate when sales will cover your costs to open a restaurant or pay off equipment.
Types of restaurant management systems
With so many moving components in a restaurant, having visibility through an all-in-one management system or connected standalone solutions is essential.
Most restaurant owners start with a POS system and add integrations as their business grows. However, your requirements will differ by your restaurant concept, existing services, and budget.
1. All-in-one restaurant management solutions
An end-to-end restaurant management system provides POS software with inventory, employee, and payment features. Many also offer customer relationship solutions such as loyalty programs or support menu management and recipe pricing.
Regardless of your chosen solution, an RMS gives you access to plenty of reporting tools and analytics about each aspect of your restaurant.
2. Point-of-sale software
Your restaurant's POS system is integral to restaurant management. It supports a seamless customer experience with easy-to-use features, making it simple for your restaurant crew to quickly enter orders and special instructions.
POS systems can connect to your kitchen, inventory management, scheduling, reservation, and loyalty programs. Some providers offer a full tech stack so you can add services as your business grows.
3. Online ordering software
As ghost kitchens grow, and restaurant owners seek out new income streams, e-commerce software is a necessity. An online restaurant ordering system increases customer satisfaction while reducing errors.
It's simply easier for guests to jump online and customize their orders and, in some cases, to track their purchases from cooking to delivery.
There are a few ways to add online ordering software to your services:
POS systems: Providers, such as Toast or Cake, offer online ordering via standard POS features or add-on services. This eliminates the need to manually transfer online orders into your POS system.
Third-party services: Companies like ChowNow or Uber Eats integrate with your existing website to provide online ordering capabilities.
Website capabilities: If you're tech-savvy or have access to a developer, you can add ordering capabilities to your existing website.
4. Restaurant payroll and accounting systems
Your accounting software helps you manage the cost of goods sold (COGS), track sales and profits, and oversee tax payments. For the best results, your accounting software should integrate with your POS system.
Restaurant payroll programs may be third-party providers or add-on services to your existing accounting program. Automating your payroll is a huge time-saver and helps ensure your compliance with labor regulations.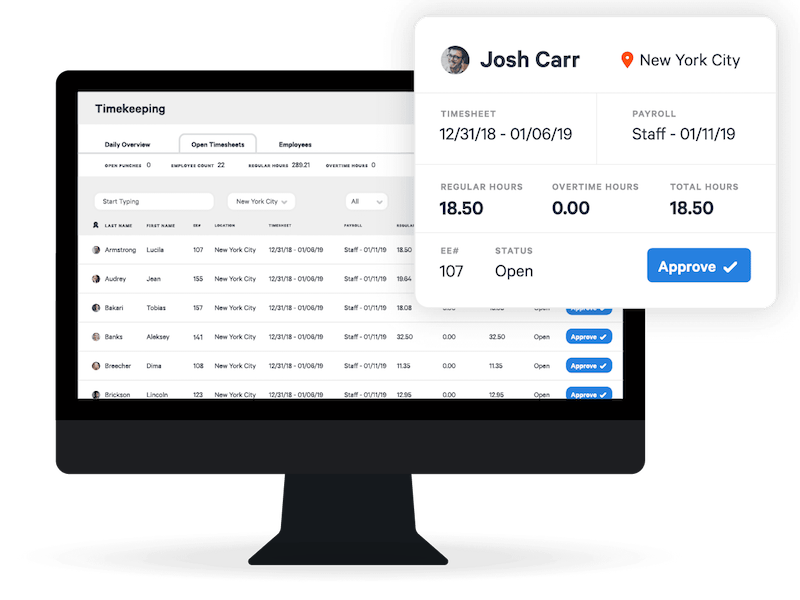 5 features to look for in a restaurant management system
Whether you use all-in-one software or integrate several systems, key features help you stay aware of your business, employees, and customers. Look for affordable yet scalable tools so you can add on modules or capabilities as your restaurant grows.
1. Inventory management
Your inventory management program helps you make better ordering decisions and even save time placing orders since programs support barcode scanners and other devices. It also helps with managing:
Expiration dates
Recipe costs
Food waste
Theft-related costs
2. Labor management
Labor management and scheduling software help you stay on top of your labor costs and comply with labor records requirements. It also may serve as a communication tool, allowing you to send alerts to your teams based on job position or working status.
3. Reporting capabilities
Make smart decisions using real-time dashboards and historical analytics. You can compare year-over-year reports or see how your latest promotion fared. Or host a contest for your staff and use your software to see employee performance data.
4. Hardware options
While a cash register and POS system are standard in the restaurant business, you may also use various devices to manage online ordering, loyalty programs, and customer-focused offerings. For instance, you may use:
POS hardware such as tablets, server stations, and kitchen display screens
Customer-facing loyalty tablets so guests or staff can enter points or redeem rewards
Third-party or online ordering tablets to accept digital orders
Payment processing hardware like Europay, Mastercard, and Visa (EMV) terminals or mobile payment technologies
Self-ordering options such as in-house kiosks
5. Customer relationship tools
Staying in touch with guests is easy when you use restaurant loyalty or engagement software. Some solutions integrate with your POS system, while others are standalone services using a separate tablet.
Capture the big picture with a restaurant management system
A dedicated restaurant management system or integrated POS services help you oversee and regularly improve your restaurant. There are many ways to design a solution for your business. Ultimately, it's about which one provides the best experiences for you, your staff, and guests.
https://www.fool.com/the-ascent/small-business/articles/restaurant-management-system/