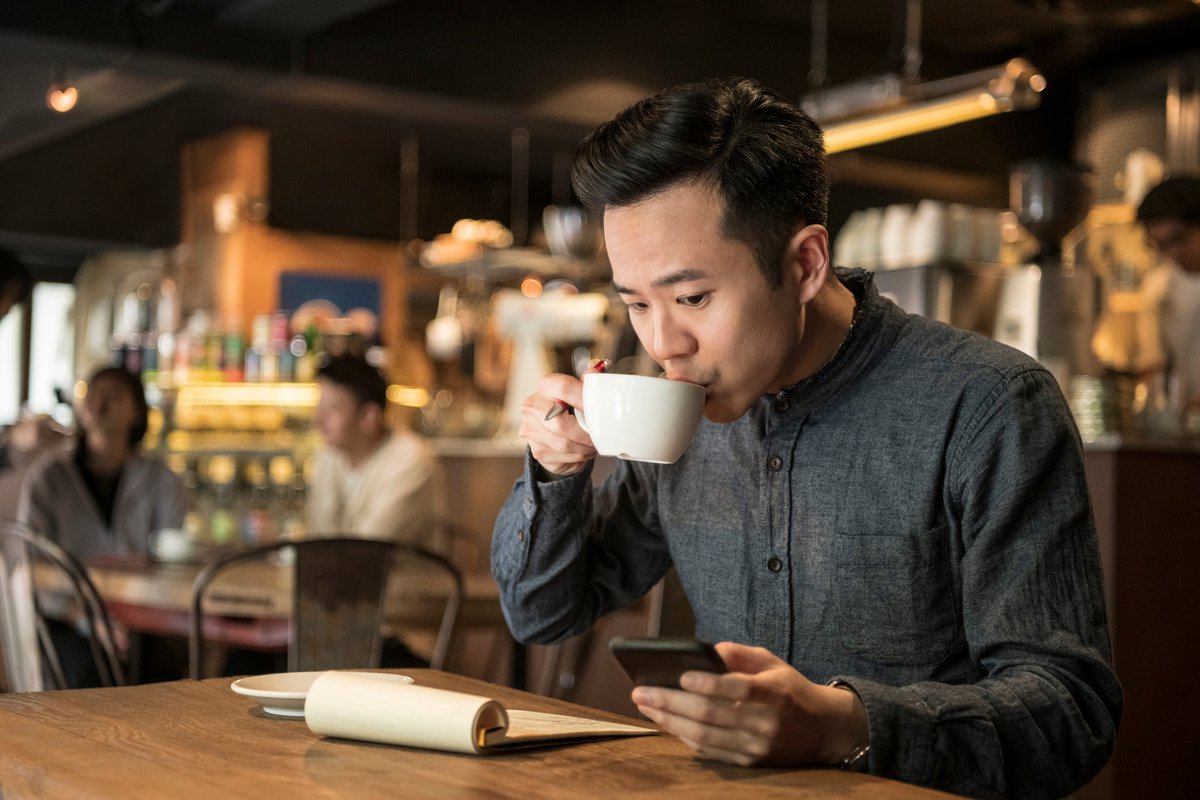 Maximize your sales team's efficiency with content management software. The Ascent highlights 11 of the best content management solutions to help you decide which fits you best.
There's nothing worse than calling up a prospect you thought was ready to close only to find out they barely know what your product is — leading to a polite request for you to take them off your list. Whoops. It looks like you missed a step.
This happens all the time to sales teams that don't effectively manage their contacts, which is true whether you're in B2B or direct-to-consumer sales.
As everyone in sales knows, it takes multiple "touches" to turn a lead into a customer, because if someone doesn't know who you are, they can't buy from you (as sales guru Grant Cardone is fond of saying).
As a result, it is paramount not only that you have a way to keep all your contacts organized by details like name and contact info, but that you also know where each of your contacts stands in the sales process, and that can quickly get complicated.
That's where sales contact management software comes in, and there are some great options on the market.
Here the top contact management software options:
Insightly
Agile CRM
Bitrix24
Close
HubSpot CRM
Redtail CRM
Salesforce CRM
SugarCRM
Vtiger Sales CRM
Zoho CRM
What to look for in a great contact management software
Every lead management software option will be able to provide some direct marketing tools and basic organization of information such as names, phone numbers, and the like, but great customer contact software will go a little bit further.
The following three features have the most potential to improve your business.
1. Customizable fields
Software that simply lists the most basic details about a contact miss out on an opportunity to really wow a client.
A contact management solution that offers customizable fields for extra details — such as, say, the fact that a customer really likes features A and B about your product — will give you that edge in your next phone call to hone in on what the customer cares about and improve your chances of getting that sale.
It advances you from sales management to relationship management.
2. Visual dashboard
Given all of the customers a contact manager has to deal with, it's easy to get lost in the huge amount of information available.
This can result in lost sales — not just because you lose track of clients who might be ready to close, but because you make a sales pitch to a client at the wrong time and drive them away.
A visual sales dashboard that keeps all client information on one page in a logical format can greatly improve your sales team's efficiency.
3. Automation
There are so many great tools available today that we didn't have 20 years ago, and automation is one that can really help your sales team.
Software with automation features can keep track of when you called a client and automatically record it. Then, each time you load your software, you can see which clients you need to reach out to again based on the date of your last contact.
Our top 11 picks for contact management software
Most CRM software options have a contact management database because that is their bread and butter. However, they all seem to have a different approach to it.
We took our top-rated CRM software options and broke them down based on how they handled contact management. Here they are, listed in alphabetical order (except for Insightly, our top choice):
1. Best overall: Insightly
The great thing about Insightly's contact management system is how automatic it is. The software tracks potential sales activity on your leads and then automatically routes those leads to the correct member of your sales team so they can strike when the iron is hot.
Insightly can also send bulk emails to customers and notify the sales team whenever contacts open emails, and its account management features keep everything in order.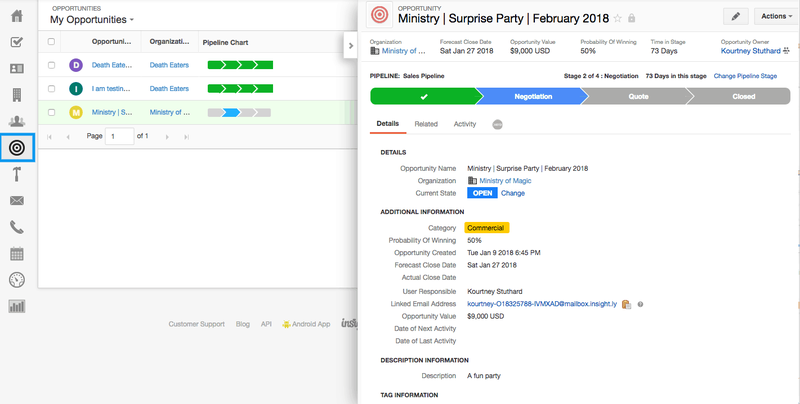 The software doesn't stop there: It links emails and other records to contacts in your database so you can build a picture of an organization's structure, which both increases your conversion rate and opens the door to more prospecting.
Read The Ascent's full Insightly review
2. Agile CRM
Agile CRM offers a feature it calls 360 Degree Contact View, which places every bit of information you need about a contact on a single page. This helps your sales team have a more personalized experience with a customer and, therefore, a greater chance of making a sale.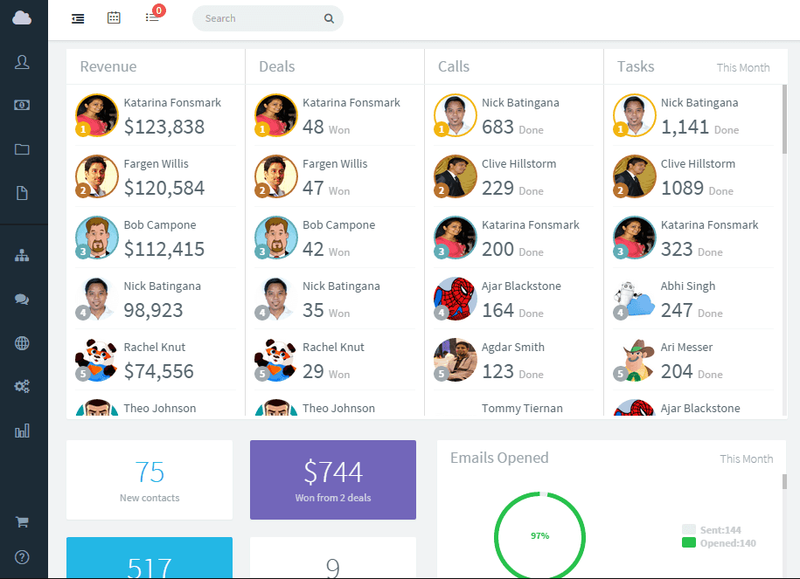 You can build contact profiles that include important details like communication history, social media profiles, lead scores, and any notes you have on them. You can also share this information across different teams.
Read The Ascent's full Agile CRM review
3. Bitrix24
Bitrix24 does a great job when it comes to managing the sales funnels your contacts go through. You can juggle multiple sales funnels at one time and even automate them so you're not having to constantly update them manually.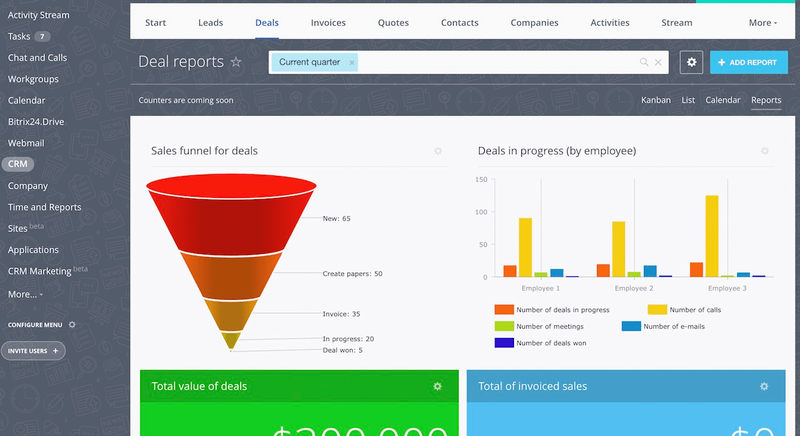 The software also identifies opportunities for upsells, downsells, and cross-sells so you aren't scrambling when opportunities present themselves.
Read The Ascent's full Bitrix24 review
4. Close
Close is ideal for managing relationships with your contacts, and it has great automation features for improving your sales process. The software has a "Daily Call List" tool that shows exactly who you need to call and all of the information you need to get the most out of it.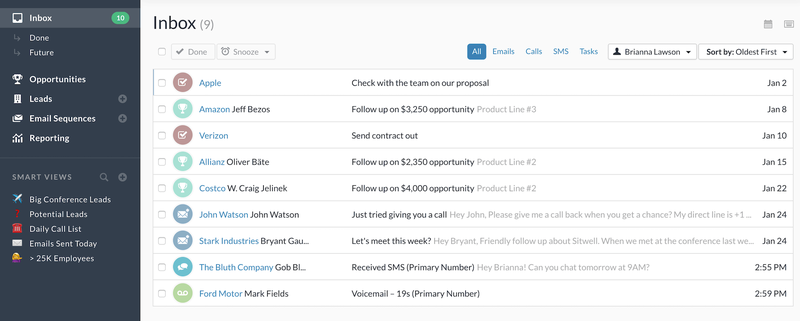 This CRM has the added benefit of placing outgoing calls automatically so your team can be more efficient, moving them through the list of contacts without having to manually dial themselves and getting as many "touches" on potential clients as possible.
Read The Ascent's full Close review
5. HubSpot CRM
HubSpot CRM offers simple activity logging so you can see where each of your contacts stands in the sales funnel, and that way, your sales team doesn't lose a lead by contacting them out of order or providing old information that confuses the client.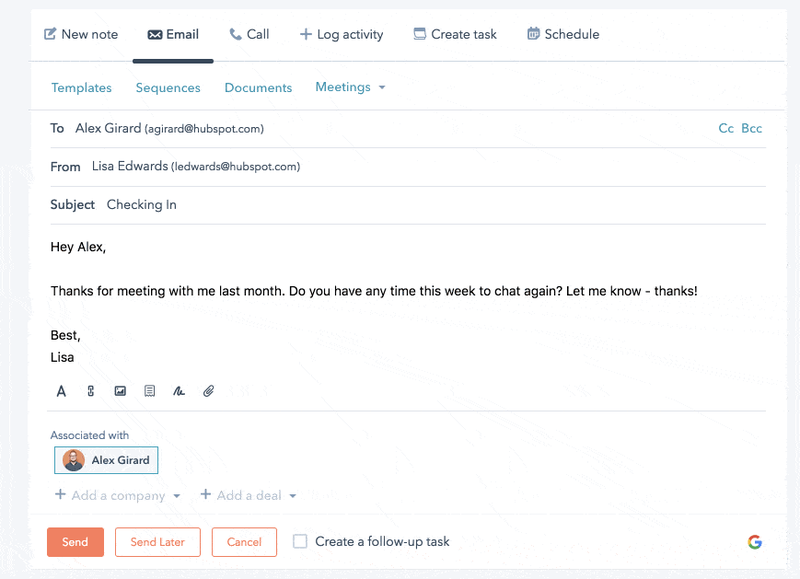 HubSpot's clean and visual dashboards help your team visualize the status of each of your contacts. And you can sync all of this with Outlook and Gmail to accurately track interactions.
Read The Ascent's full HubSpot CRM review
6. Pipedrive
Pipedrive is very simple-to-use software that has a main dashboard showcasing all of your contacts and what steps should be taken next.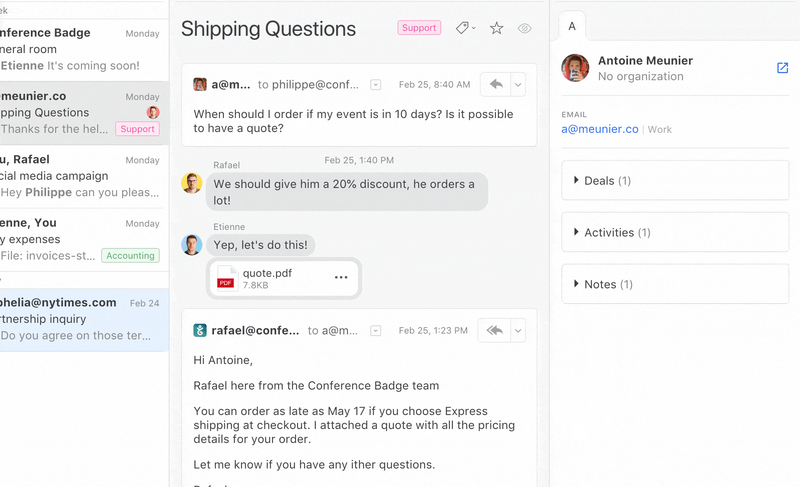 It also features helpful icons such as "hot," "warm," and "cold" to show where you stand with leads and, therefore, how you should approach that contact. You can make unlimited, customizable pipelines to manage these contacts within the sales process.
Pipedrive's email integration tool also allows users to track sales conversations with clients.
Read The Ascent's full Pipedrive review
7. Redtail CRM
Retail offers a detailed contact list that you can sort by name, status, category, type, and more. You can cram a ton of personal info in these contact cards, like the nickname of your client's spouse or their birthday.

By having all of this in front of them when they pick up the phone, your sales team can be far more efficient in closing deals.
Read The Ascent's full Redtail review
8. Salesforce CRM
Salesforce CRM has lead and campaign management features that enable you to manage each contact at every step through the sales funnel.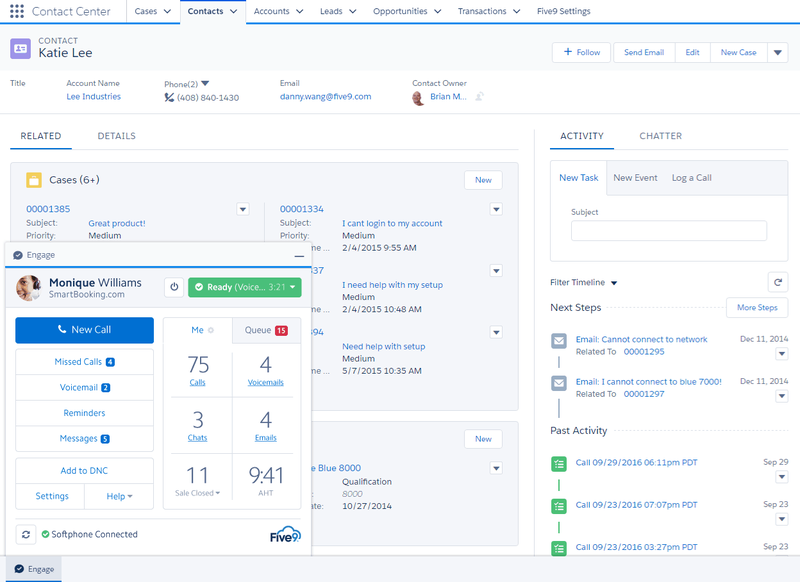 You can assign statuses to each contact based on where they are in the sales pipeline, allowing your sales team to reach out to contacts with the right information at the right time — a vital part of any sales team's success rate.
Read The Ascent's full Salesforce CRM review
9. SugarCRM
SugarCRM offers an open-source platform that is ideally suited for larger enterprises with development teams that can adapt it to neatly fit their operation. It has a powerful suite of tools and features, and while it may be popular among larger businesses, SugarCRM says it also has a great small business solution that's worth checking out.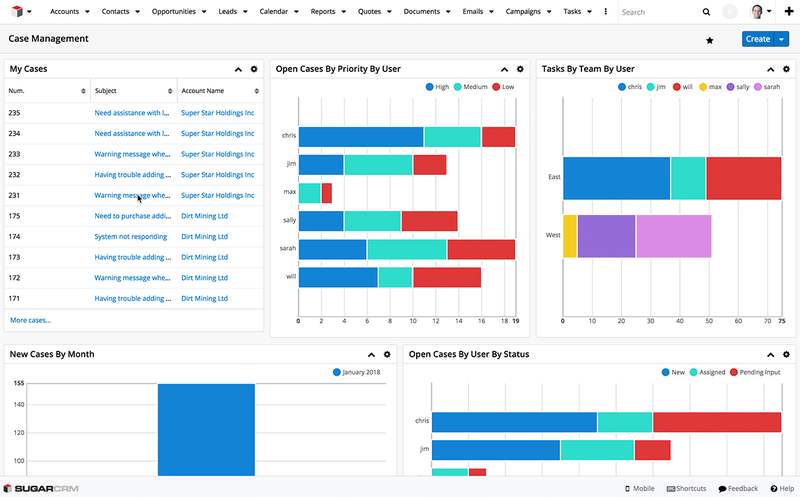 It is cloud-based, has good customer service (although you have to pay for it), and has a fairly steep learning curve — but it will make your team a lot more efficient.
Read The Ascent's full SugarCRM review
10. Vtiger Sales CRM
Vtiger has a feature specifically for contact organization that can help you better capture leads, including customizable fields so you can take extensive notes about a contact and make a more personalized pitch that is more likely to get results.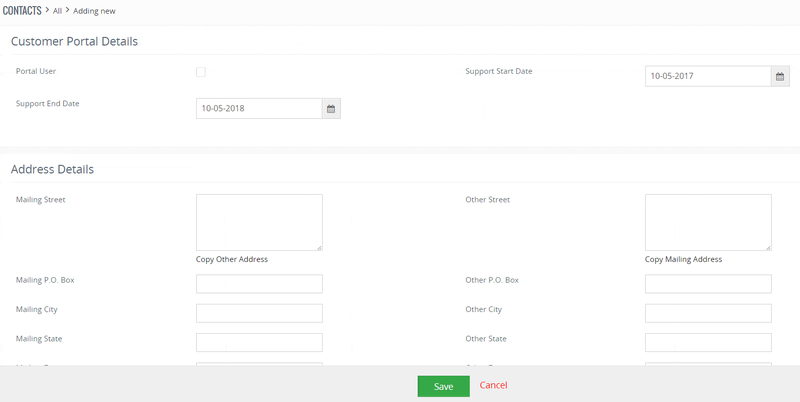 It presents details on each contact on one simple page that's easy to navigate, which is great for the sales team because they don't have to waste valuable time digging around for vital information.
The software is capable of recording calls, conducting mass email campaigns, and sharing information with other users.
Read The Ascent's full Vtiger Sales CRM review
11. Zoho CRM
Zoho CRM has handy contact cards providing a quick breakdown of a client's contact information, lead source, social interactions, and much more.
The contact database also includes a super helpful "best time to contact" column, which tells you when you should reach out to a contact in order to maximize the chance of getting them on the phone when they are best able to make a purchasing decision or have a conversation about the product.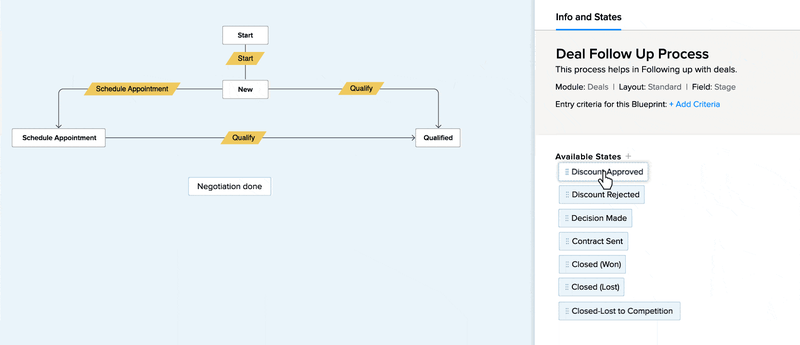 The software does all of this by using artificial intelligence to identify a contact window based on your previous interactions.
Read The Ascent's full Zoho CRM review
Each software option has certain advantages
Every CRM solution offers some form of contact management; you simply couldn't manage a sales team without it.
But not all of them offer certain extras that can really take your sales team to the next level, such as simple dashboards that help you visualize where your contacts stand, and automation to improve efficiency.
Ultimately, what client management software you choose depends on your company's needs: If automation and artificial intelligence are important to you, Zoho CRM and Insightly are great options. If a simple and highly visual dashboard is paramount, HubSpot CRM or Pipedrive will probably suit you.
Whatever route you take, it's always best to try out a few CRM examples before making a decision.
https://www.fool.com/the-ascent/small-business/crm/articles/contact-management-software/