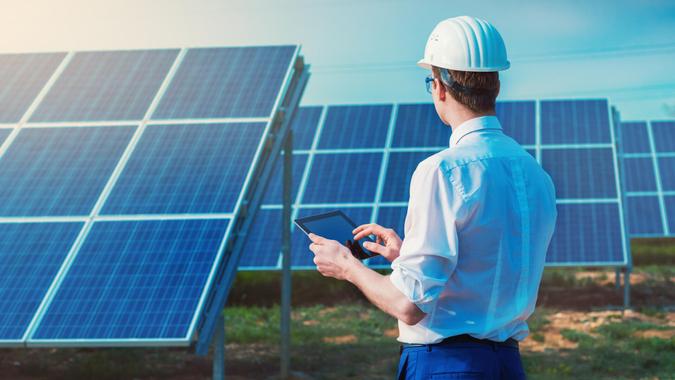 ©Shutterstock.com
The stock market is ever-changing and sometimes its ups and downs can be rather unpredictable. With the continued effects of the current global events, investors need to pay close attention to the market transformation to place their bets safely. Keeping tabs on emerging industries will let them identify the trends that could shape the investment landscape in the new year.
What Is an Emerging Industry?
As the market evolves and certain technologies start becoming obsolete, new companies and organizations with innovative products and services tend to appear. When a small group of businesses in the same sector are centered around a specific new concept or technology in an early development stage they form what we know as an emerging industry.
Investing in emerging industries could potentially give your portfolio:
Top 10 Emerging Industries To Invest in for 2022
For those looking to diversify your portfolio in 2022, here are the top 10 emerging industries to keep an eye on:
1. Cloud Computing
The remote working trend has gained massive popularity in the past decade — however, the global circumstances brought by the pandemic have expedited the transition into it since 2020. As remote workers and companies need ways to facilitate their daily operations, cloud computing technologies have come to the rescue.
The worldwide cloud computing market size is expected to reach $1,251.09 billion within the next six years. This would lead it to register a compound annual growth rate of 19.1% between now and 2028. Some of the best stocks to invest in cloud computing are:
2. Biotechnology
The successful development of vaccines to combat the ongoing pandemic has meant a significant increase in popularity for the biotech industry. In the past months, venture capital funding for the life sciences reached record highs raising more than $30 billion in the U.S. Pacific Northwest.
The global biotechnology market size is forecasted to reach $2.44 trillion by 2028, recording a compound annual growth rate of 7.4%. There's no doubt biotech is becoming a booming industry attracting many entrepreneurs and investors. Some of the best companies to invest in within this fast-growing sector are:
Axsome Therapeutics
Exelixis
Novavax
Regeneron Pharmaceuticals
Vertex Pharmaceuticals
3. Data Analytics
This emerging industry has become the core of business success across all sectors. Companies are now prioritizing data gathering and research as a vital business operation that serves as a guiding axis for building solid strategies in product development, customer satisfaction and more. In fact, the global business intelligence market is currently valued at $30.9 billion. Some of the best stocks to buy in data analytics this year are:
Snowflake
Splunk
Elastic NV
Alteryx
Datadog
4. Artificial Intelligence
To the delight of many sci-fi enthusiasts, AI is everywhere these days. This industry has placed many sectors under a new light by allowing them to automate many of their essential tasks and providing them with state-of-the-art technologies. No wonder why the global AI market size is expected to reach a compound annual growth rate do 40.2% by 2028 and is likely to make over $190.61 billion by 2025 [ 7]. Some of the stocks you could add to your AI repertoire are:
5. Real Estate
We're living in uncommon times, and the current economic threat presented by the pandemic has left many wondering if investing in real estate is worth it in 2022. Low mortgage rates could mean having access to lower real estate loans is possible, which means purchasing property and leasing it out could bring higher profits.
However, the Federal Government is expecting to end its mortgage stimulus program by April this year, bringing significantly higher mortgage rates going forward. This could put pressure on real estate investors to get their hands on some property before the first quarter of the year is over. Rather than purchasing a piece of property, investors could put their money on real estate investment trusts. The following have the most momentum as of January 2022.
Life Storage Inc.
Mid-America Apartment Communities Inc
Russell 1000
Real Estate Select Sector SPDR Fund
Good To Know

Emerging industry stocks are often volatile and hard to value. This makes them prone to experiencing significant price swings. But while investing in an emerging industry can pose some challenges and risks, early investors can always stumble upon the next big thing. After all, every big industry had to start somewhere.
6. Green Energy
Experts state that renewable energy is the fastest-growing energy source in North America. This emerging industry has increased by nearly 100% in the past ten years. With the federal government funding clean energy, the coal industry decline is rapidly accelerating. According to Forbes, 2022 will represent a record year for renewable energy deployment. That said, here are the renewable energy stocks to keep on your radar.
Atlantica Sustainable Infrastructure
ChargePoint Holdings
SunPower
7. Pharmaceuticals
The current global situation has brought to light how important the pharmaceutical and healthcare sectors are. The demand for better and more effective treatments for known ailments and emerging diseases will never end, and this will keep pharmaceutical and health-focused companies thriving for years to come. The U.S. Bureau of Labor Statistics indicates that in the next seven years, the healthcare sector will produce about 2.6 million jobs. That's an excellent indicator of how much this industry is growing. Some outstanding pharmaceutical stocks in 2022 are:
Pfizer
Johnson & Johnson
Bristol Myers Squibb
AbbVie
8. Internet of Things
Nowadays, consumers want smart everything, and that's where the IoT industry comes in. Its heavy integration in the electronic market has massively increased this sector's chances of growth. The global market for IoT solutions is expected to reach $1.6 trillion before 2025. Some promising stocks in this emerging industry are:
Cisco Systems
Dexcom
Impinj
9. Information Security
With the increasing demand for IoT systems, cloud computing and other internet-dependent tools, the rise of the cybersecurity industry is imminent. The cybersecurity market size is forecasted to reach $345.4 billion by 2026, recording a compound annual growth rate of 9.7%. The top cybersecurity stocks and finds to buy this year are:
CrowdStrike Holdings
Zscaler
Fortinet
Tenable Holdings
Okta
10. Sustainable Industries
In 2022, businesses and individuals are increasingly showing their commitment to leaving a cleaner and fairer world for the new generations. As the consumer reflects on the impact of the products and services they purchase, they're beginning to look for eco-friendly, socially responsible brands. That's why businesses that focus on environmental and social causes are rising in popularity.
Two years ago, the worldwide green technology and sustainability market size was valued at $10.32 billion. In just ten years, it's projected to reach $74.64 billion and reach a compound annual growth rate of 21.9% in the forecasted cycle. The top ESG — which stands for environmental, social and governance stocks –to buy this year are:
Final Take
Investing in an emerging industry can certainly pose some risks, but they're also an excellent opportunity for early investors to stumble upon a gold mine.
Up-and-coming stocks can end up being rewarded with rising price-to-earnings multiples and bring investors significant stock gains. However, as with any other investment, is essential for investors to do some research and monitor market trends before putting all their eggs in one basket.
Information is accurate as of Jan. 21, 2022.
Our in-house research team and on-site financial experts work together to create content that's accurate, impartial, and up to date. We fact-check every single statistic, quote and fact using trusted primary resources to make sure the information we provide is correct. You can learn more about GOBankingRates' processes and standards in our editorial policy.
https://www.gobankingrates.com/investing/stocks/fastest-growing-industries-to-invest-in/